This one is a game-changer.
This recipe makes the most rich, scrumptious cheesecake ever – sweet, creamy, and completely indulgent. You're not going to believe it's also low-sugar impact, gluten-free, and guilt-free too!
Now, I'm going to be totally honest here. If you're looking for an inexpensive weeknight dessert, you should try this recipe for Chocolate Berry Chia Pudding instead. The five stars in this recipe's name are about two things: the taste and how much the ingredients cost!
But if you're looking for a special occasion recipe that will blow people away, you've found it. It's packed with protein and almost completely sugar-free – although, no one is going to care once they take the first bite.
The crust includes KNOW Foods KNOW Better Chocolate Chip Cookies. They've got an impressive 18 grams of protein each, plus superfood chia seed and flaxseed. They use allulose, which is the new kid on the sweetener block. This plant-based fiber is a great choice because it doesn't affect your blood glucose.
You can top this gorgeous cheesecake with fresh organic berries or make a chocolate drizzle by melting together a 1/2 cup each of coconut oil and stevia-sweetened chocolate chips. (Or do both! I won't say a word…)
One last note about food intolerances here: please don't eat this cheesecake if you know you have an egg intolerance. It should be fine for those with dairy intolerances because the ghee has the milk protein removed, and the rest of the ingredients are dairy-free. However, only you know what works for your body, so please proceed accordingly. (And keep a bottle of Safety Net on hand, just in case!)
JJ's Five-Star Chocolate Chip Cookie Cheesecake
By jjv-admin Desserts
May 12, 2018
This amazing gluten-free, low-sugar cheesecake recipe is also packed with fat-burning protein – proof that eating healthy can taste scrumptious!
Prep: 15 mins
Cook: 1 hr
Yields: 12 Servings
Ingredients
3 KNOW Foods Know Better Chocolate Chip Cookies*
1/2 cup grass-fed ghee, melted
3 packages (8 oz. each) dairy-free cream cheese (I like Kite Hill almond cream cheese best.)
1 package (8 oz.) dairy-free ricotta cheese (I used Kite Hill again.)
1 pasture-raised organic egg yolk
2 tsp JJ Virgin Sprinkles** or other low-sugar impact, natural sweetener
1/2 cup organic sliced strawberries (to top, optional)
1/2 cup organic blueberries (to top, optional)
Directions
1Preheat oven to 350F.
2Using a food processor or your fingers, break the cookies up into large crumbs.
3Pour the crumbs into a medium mixing bowl and combine with the ghee.
4Push the crumb mixture into an even layer in the bottom of a 9"-springform pan.
5Bake at 350 degrees for 8-10 minutes, until lightly browned.
6Set baked crust aside while you use an electric mixer to whip together together the cream cheese, ricotta cheese, eggs, egg yolk, arrowroot, vanilla, JJ Virgin Sprinkles, lemon juice, and lemon zest.
7Mix until thoroughly combined, and pour over cooked crust.
8Bake for 50 minutes at 350F, until golden brown around the edges and set in the middle.
9Cool on the counter for 2-3 hours, then refrigerate until totally chilled.
10Before serving, top with fresh berries.
You can find KNOW Foods Know Better Chocolate Chip Cookies HERE.

**Get your own JJ Virgin Sprinkles 3-in-1 Sweetener to add sweetness to your recipes without added sugar!

Want more healthy, yummy recipes? Check out jjvirgin.com/recipes.
Thanks so much for reading! You can get plenty more delicious, healthy recipes when you follow me on Pinterest…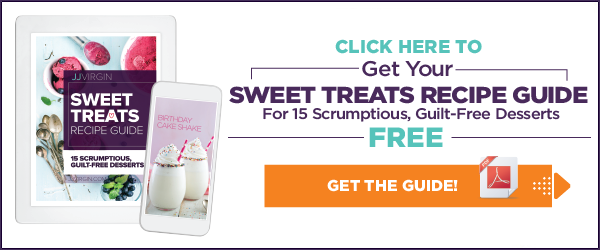 I couldn't make it without supportive relationships – neither can you! That's why my team and I choose affiliate partners to offer you products we believe in. I received free KNOW Foods cookies in order to test their quality, but the opinions expressed in this blog are all my own. (And I kept on buying them after the freebies were all gone!) If you happen to purchase something I recommend here, it's likely I'll receive some kind of compensation. However, I only bring you partners whose content and core values will serve you with the same commitment to excellence my team and I strive for every day. Please be in touch with any concerns.