Non-stop deadlines making your office week feel like an eternity? Excruciating migraines sabotaging your workout plans? Maybe the lingering gray winter days have crashed your mood.
I've found a decadent, melt-it-all-away solution to your problems: chocolate.
The Health Benefits of Chocolate
Chocolate as a cure-all is hardly new. We've been eating it for thousands of years, and as far as I know, we've never stopped enjoying this popular food (I know I haven't!). And while this recommendation might sound strange coming from a health expert, chocolate provides numerous health benefits.
Among them are polyphenols, which can:
Chocolate also provides important nutrients, including magnesium, which most of us are low or deficient in.
Among its many benefits, magnesium can help your migraines and your mood. Research shows that this mineral can improve various types of headaches.3 It also helps convert the amino acid tryptophan to your feel-good neurotransmitter serotonin, which is one reason why chocolate helps you feel so good.4
There's one big caveat here: not just any chocolate makes the grade. You'll want to look for dark chocolate with around 85% cacao, preferably sweetened with erythritol, stevia, and/ or allulose. If you choose chocolate with real sugar, make sure it contains no more than five grams of added sugar per serving (preferably less). Be aware that most bars—even smaller ones—contain multiple servings.
I know how satisfying chocolate can be… and I bet you do, too. That's why for years, I've created chocolate recipes that keep all the satisfaction without the added sugars, inflammatory oils, and dairy (along with other food intolerances), which can quickly take most chocolate recipes from delicious to detrimental.
Here, I've pulled together my best and most-loved chocolate recipes. Whether you're looking for a warm pick-me-up on a frigid day, a creamy dessert for the dog days of summer, or something delicious to serve your party guests year-round, I've got you covered!
Healthy Chocolate Breakfast Recipes
Yes, you can have chocolate for breakfast! Blissful cacao flavor delivers nutrients that relax the body and elevate your mood to get your day started on the right note.
Many of the following recipes include my All-In-One Shakes, which pack 20+ grams of high-quality protein in every serving, along with vitamins, minerals, fiber, healthy fats, and phytonutrients.* Whether you're keto, paleo, vegan, vegetarian, or just want to fit in more protein into your diet, you'll find them in paleo-Inspired and plant-based varieties here.
Loaded Smoothies
Sip on one of these creamy, chocolatey, protein-packed loaded smoothies. These recipes were created to be complete, balanced meals in a glass, so you'll feel full and satisfied for hours.
Need more yummy ideas? I've got over 60 recipes in this guide. It's FREE… and guaranteed to be a game-changer for fat loss and overall health. Claim yours here.
Breakfasts That Taste Like Dessert
Loaded smoothies are my favorite way to break a morning fast. However, some people prefer something they can chew for breakfast. These recipes fit the bill!
Fast & Easy Chocolate Desserts
Nothing tastes better after a satisfying meal than a gooey chocolate-y dessert. Whip up these favorites and you don't need to feel an iota of regret for indulging.
Valentine's Day/Special Occasion Treats
Whether you're planning a romantic night in or out on the town, or planning a day of self-pampering, Valentine's Day almost always involves chocolate.
Whatever your special occasion, banish the stale drugstore box of treats and opt for these nutrient-rich recipes instead.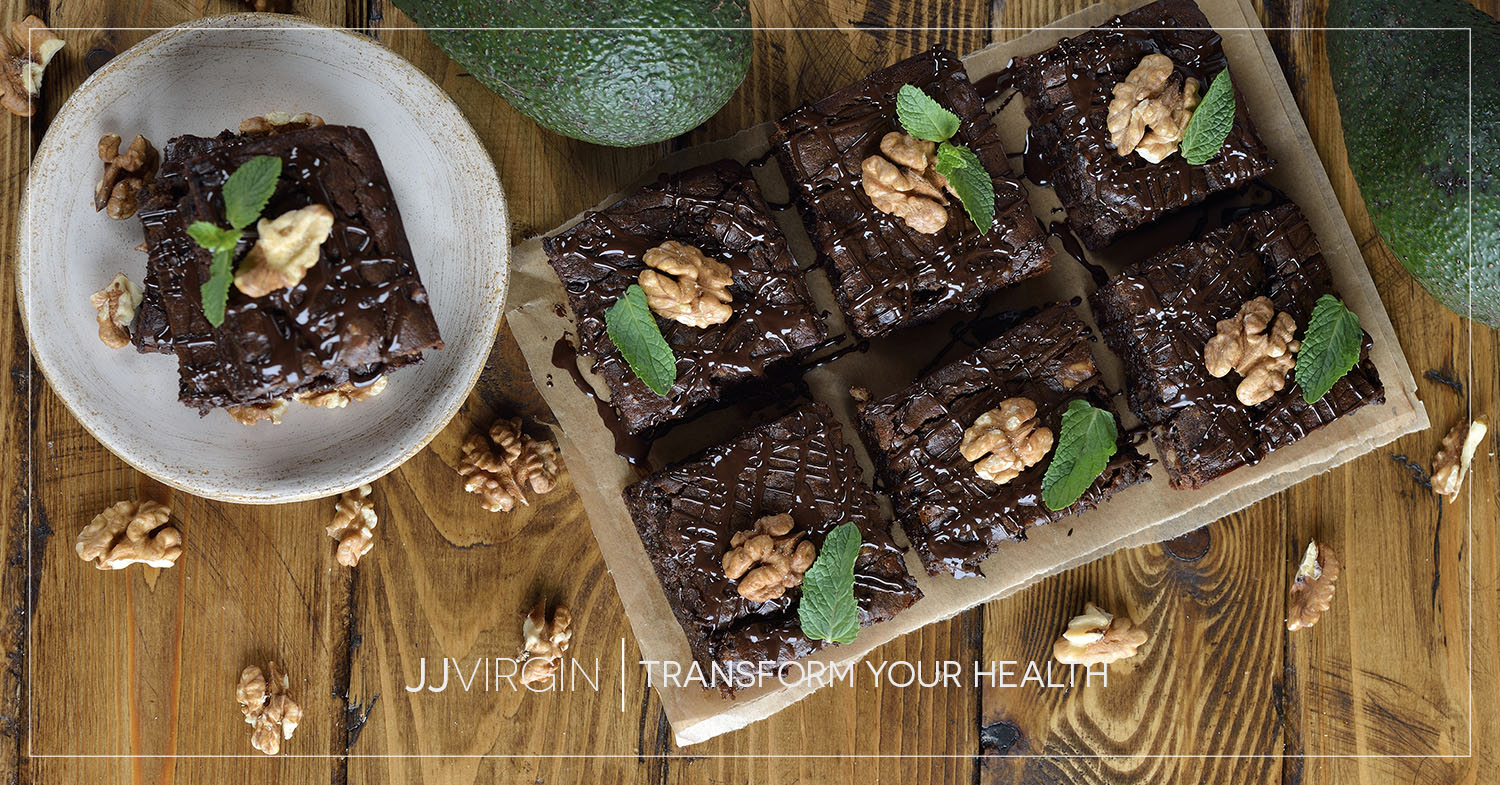 Party Pleasers
I like bringing things to parties that are covertly healthy. Foods that look indulgent but are actually super nutritious. It's a great way to show your friends that eating well doesn't have to be boring and deprived of flavor! Surprise your circle with these recipes at your next get-together:
Collagen is a multitasking nutrient that can help support proper bone density, skin health, joint tissue health, muscle strength, gut health + more! Collagen Peptides Powder is a convenient, effective way to add more of this critical nutrient to your diet… in an easy-to-use powder. Order it here.
Cold and Creamy Chocolate Recipes
Skip out on the ice cream truck and try these healthier options instead.
Like a Warm Hug in a Mug
That coffee shop hot chocolate hits the spot on a blustery day. But the sugar, dairy, and other "no" ingredients can knock your blood sugar out of balance, creating hunger and cravings that can take down your weight loss efforts. I've got you covered with three healthier versions of this cold-weather classic.
Power Hot Cocoa is a healthy option that helps you avoid the sugar overload found in most varieties.
Mexican Hot Chocolate packs a bold punch with ground cinnamon and cayenne powder (if you need a little more heat with your chocolate!).
Orange Hot Chocolate is another protein-loaded upgrade with a little bit of orange zest for a unique flavor.
Chocolate That Works Harder For You
Chocolate makes everything better. And with these recipes, you don't have to sacrifice that satisfaction or worry about problem ingredients like added sugar and dairy.
Whether you want a fast, filling loaded smoothie, a warm high-protein breakfast, or an after-meal sweet treat, you can feel confident that every one of these recipes will satisfy your strongest chocolate craving with absolutely zero guilt.
Looking for a convenient, grab-and-go way to satisfy your sweet tooth with the added sugars? I've got three fabulous bars that fill that need:
Love Mounds® bars… but not all that added sugar? Our Co-Co Crave Fiber Bar combines sweet coconut and rich dark chocolate. Each bar features healthy fats and 7 grams of fiber. Unlike that classic candy bar, ours only contains 1 gram of added sugar.
Packed with protein and fiber, you won't believe that my protein bars are healthy. One thing they're NOT packed with is added sugar. Satisfy your sweet tooth and CRUSH your cravings for hours… I always keep one of these in my bag or purse!  
Our Keto Delight Vegan Bar combines healthy fats from coconut, cocoa butter, sunflower seed butter, and almond butter. We've also included 10 grams of protein from pumpkin seed and hemp. This bar is enrobed in unsweetened chocolate… with 6 grams of fiber in every bar… and just 1 gram of total sugars… it all adds up to a keto win!
The views in this blog by JJ Virgin should never be used as a substitute for professional medical advice. Please work with a healthcare practitioner concerning any medical problem or concern. The information here is not intended to diagnose, treat, or prevent any disease or condition. Statements contained here have not been evaluated by the Food and Drug Administration.
*These statements have not been evaluated by the Food and Drug Administration. This product is not intended to diagnose, treat, cure, or prevent any disease.
References:
Latif R. Health benefits of cocoa. Curr Opin Clin Nutr Metab Care. 2013 Nov;16(6):669-74. doi: 10.1097/MCO.0b013e328365a235. PMID: 24100674.
Tan TYC, Lim XY, Yeo JHH, Lee SWH, Lai NM. The Health Effects of Chocolate and Cocoa: A Systematic Review. Nutrients. 2021 Aug 24;13(9):2909. doi: 10.3390/nu13092909. PMID: 34578786; PMCID: PMC8470865.
Yablon LA, Mauskop A. Magnesium in headache. In: Vink R, Nechifor M, editors. Magnesium in the Central Nervous System [Internet]. Adelaide (AU): University of Adelaide Press; 2011. PMID: 29920023.
Schwalfenberg GK, Genuis SJ. The Importance of Magnesium in Clinical Healthcare. Scientifica (Cairo). 2017;2017:4179326. doi: 10.1155/2017/4179326. Epub 2017 Sep 28. PMID: 29093983; PMCID: PMC5637834.