Not all veggie burgers are health food! Despite their pretty green labels and brand names that sound like wholesome country farms, their ingredients lists tell the true story.
Don't ever fall for a veggie burger that contains soy, gluten, or corn. All three are highly inflammatory and likely to cause food intolerance symptoms, including weight gain, joint pain, headaches, fatigue, and skin breakouts. (Soy is especially sneaky – check out the Top 15 Places Soy Hides for proof!)
This recipe uses nutritious, tasty ingredients instead to create a burger that's both healthy AND delicious. The Cilantro Vinaigrette does great double-duty as a salad dressing or marinade for fish and poultry. One last tip: look for sprouted lentils – they're even easier to digest.
Lentil Nut Burgers with Cilantro Vinaigrette join Quinoa Fusilli with Cherry Tomatoes, Garlic, Basil, and Olive Oil; Roasted Sweet Potato Salad; and Matcha Blueberry Smoothies in our Virgin Vegan menu.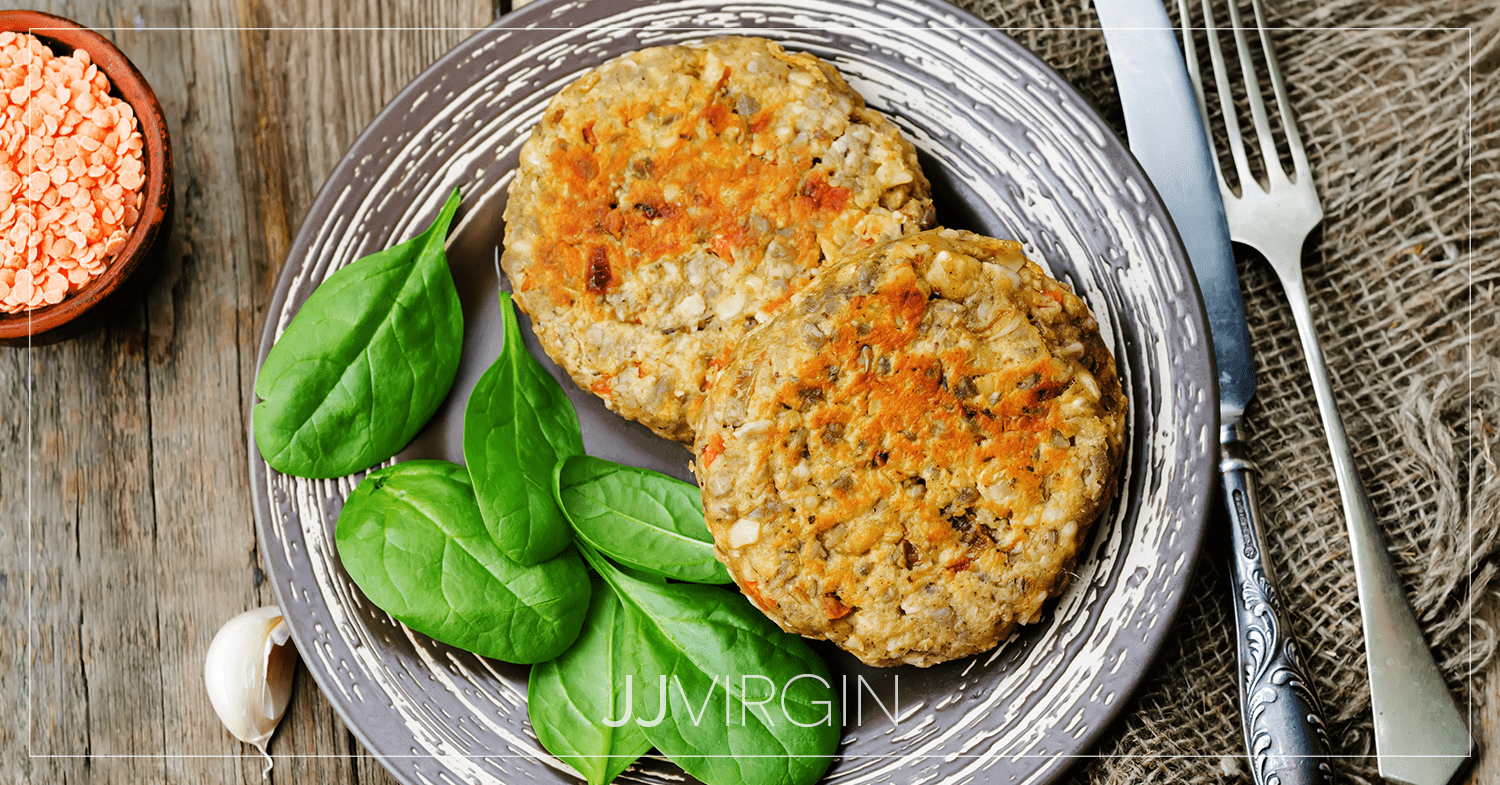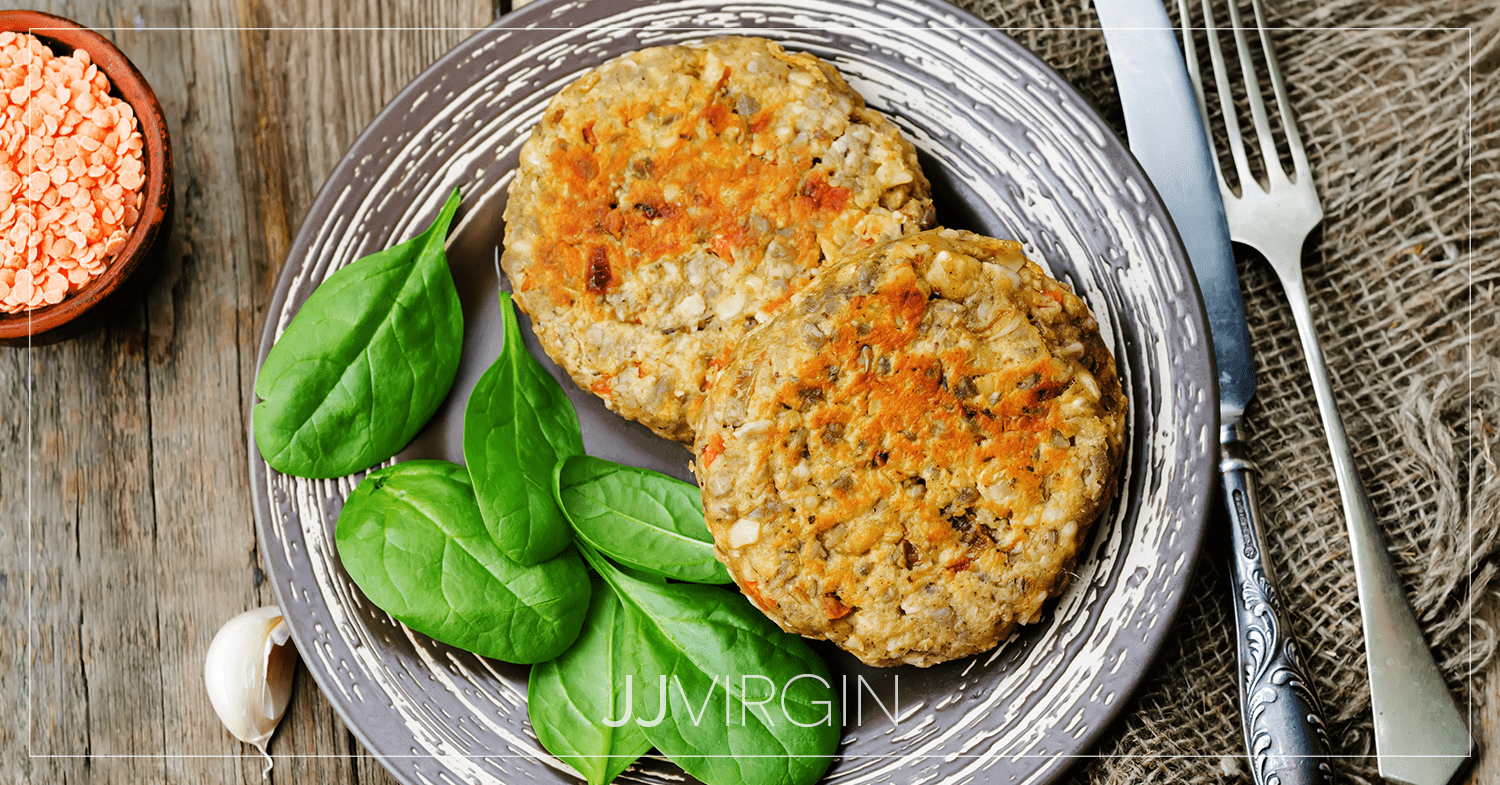 Lentil Nut Burgers with Cilantro Vinaigrette
August 9, 2017
Not all veggie burgers are created equal! This tasty vegan version has plenty of lean protein, fiber, and flavor to keep everyone at your BBQ full and happy.
Prep: 10 mins
Cook: 20 mins
Yields: 6 Servings
Ingredients
2 tbsp plus 6 teaspoons olive oil
1 container Baby Bella mushrooms, chopped
1 small onion, finely chopped (about 1/4 cup)
1/2 cup raw walnuts, finely chopped
1 cup dry organic black lentils (sprouted if available)
1/4 tsp freshly ground black pepper
Optional toppings: sliced cucumbers, tomatoes, and/or fennel
Directions
1Rinse 1 cup of lentils under cold water and drain. Place lentils in a pot with 3 cups of cold water. Bring to a boil. Then reduce heat and simmer for 20 to 30 minutes until soft (but not mushy). Drain and set aside.
2Combine cilantro, lime juice, lime zest, and 1/4 teaspoon of the salt, and white balsamic vinegar in a small bowl. Whisk in 2 tablespoons of the oil in a slow, steady stream. Set aside.
3Heat 2 teaspoons of the remaining oil in a medium nonstick skillet over medium heat. Add the mushrooms, onion, garlic, and cumin and cook, stirring occasionally, until softened, 4 to 5 minutes. Add the walnuts and cook until the nuts are lightly toasted, 2 to 3 minutes. Transfer to a bowl.
4Combine the ½ cup of cooked lentils and rice in the bowl of a food processor and pulse a few times to break down into a light paste. Add mixture to the bowl of mushrooms and blend. Stir in the parsley, remaining 1/4 teaspoon salt, and the pepper. Form into four 1/2-inch-thick patties.
5Heat the remaining 4 teaspoons of oil in a large nonstick skillet over medium heat. Add the patties and cook, turning once, until browned and heated through, 9 to 10 minutes. Transfer to serving plates and top with any of the optional toppings and the cilantro vinaigrette.
Thanks so much for reading! Don't forget to like this post and like us on Facebook.