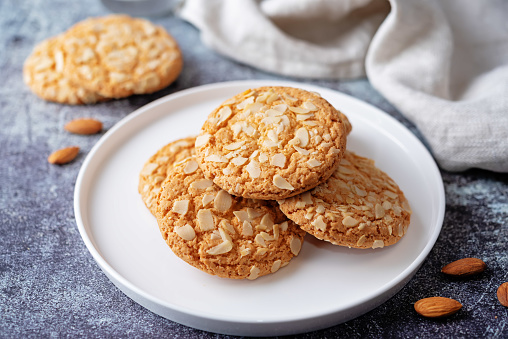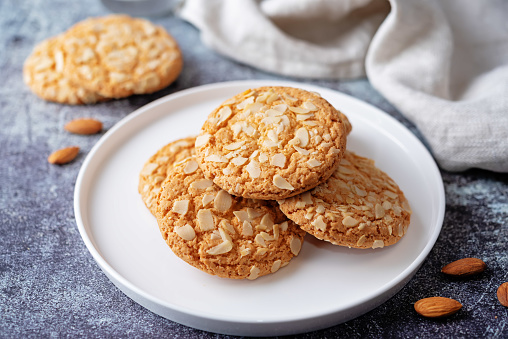 Lemon Almond Coconut Cookies
July 21, 2022
These little cookies are packed with zesty flavor. Lemon zest and extract lighten the dense almond flour base, which is packed with healthy fats and fiber to keep you full and satisfied.
Directions
1Pre-heat oven to 350 degrees.
2In a bowl, combine almond flour, protein powder, and lemon zest. Blend with your hands to distribute lemon zest throughout the mix. This allows the lemon oils to infuse the cookies.
3Open a can of chickpeas and drain liquid out into a bowl. Measure ¼ cup into a bowl.
4Add monk fruit sweetener to the aquafaba and whisk for 1 minute.
5Add coconut cream with lemon and almond extracts to the aquafaba mix. Whisk again for 30 seconds.
6Add mixture to almond flour and mix with your hands, carefully distributing until it resembles a light cookie batter.
7Line a medium-size sheet pan with parchment paper.
8Using a small cookie scoop, scoop out batter and roll into a ball. Place on the sheet pan and press down slightly to flatten with the palm of your hand.
9Take a few pieces of sliced almonds and press into the cookie. Then, re-flatten with your palm.
10When all cookies have been formed and shaped, place in the oven for 15-18 minutes until cookies are light golden brown.
11Take out of the oven and cool for 10 minutes. Enjoy with a nice tall glass of ice-cold unsweetened, plant-based milk of your choice!
Nutrition Facts
Serving Size
2 pieces (98g)