There's nothing more comforting and inviting than the smell of baked apples and cinnamon fresh from the oven! If you need a simple, healthy dessert option, look no further.
These baked apples are naturally sweet and flavorful, while the oatmeal cinnamon crumble adds just the right amount of crunchy texture and spice to create a cozy and satisfying treat.
Even better, a couple of the main ingredients offer surprising benefits for your overall health!
An Apple a Day…
There's something behind that old saying about apples! It's the pectin, polyphenols, and antioxidants that are responsible for many of the health benefits of this popular fruit.
Keeps Your Gut Healthy and Prevents Weight Gain
Apples are rich in fiber that can balance out the microbes in your gut. Pectin, which makes up the majority of the fiber in apples, acts as a prebiotic as it travels into the large intestine to feed the good bacteria in your gut, while also decreasing the presence of bad bacteria.1-3
The apple's prebiotic effect also helps reduce gut inflammation, and has even been shown to stall weight gain!4 (Find out more about the benefits of prebiotics for good gut health here: Why Do You Need Prebiotics)
Lowers Risk for Serious Diseases
The polyphenols in apples are micronutrients with powerful antioxidant properties. They can reduce the risk of serious health conditions like cardiovascular disease, some forms of cancer, diabetes, and asthma.5 Yes, please!
Protects Your Brain
A Cornell study showed that apples are one of the best antioxidant-rich foods around to help fight Alzheimer's! The high amount of the antioxidant quercetin in apples helps slow down mental decline as you age by protecting against damage to brain cells.6  
Apple Oatmeal Crumble
With so many health benefits, you'll want to make this light, crunchy Baked Apples with Cinnamon Oatmeal Crumble a staple for amazing health and happy taste buds year round!
Baked Apples with Cinnamon Oatmeal Crumble joins the other filling, family-pleasing recipes in our Family Favorites menu: Chicken Sloppy Joes over Brown Rice; Butternut Squash Fries; and Peas with Onions, Garlic, and Bacon.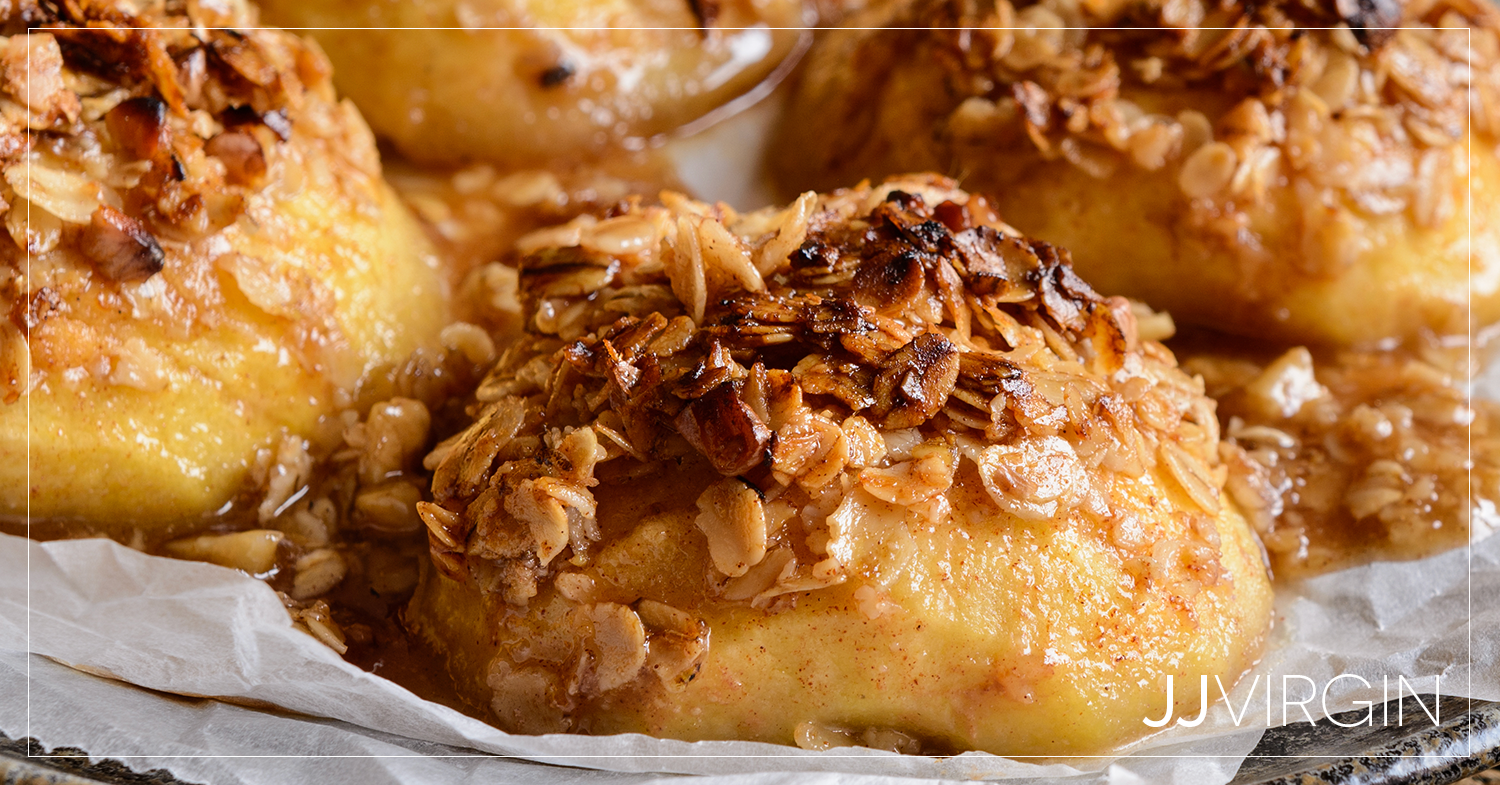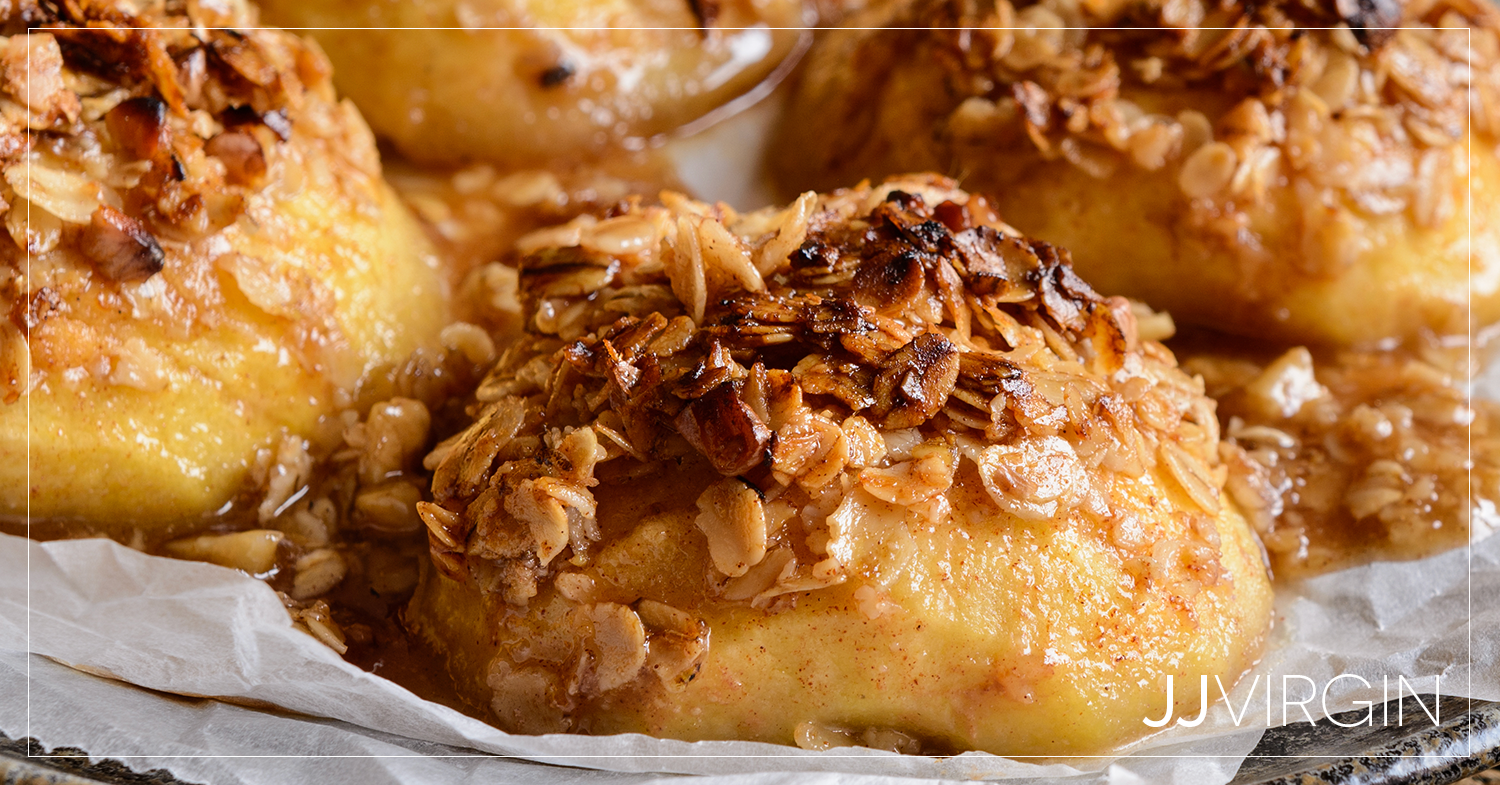 Baked Apples with Cinnamon Oatmeal Crumble
December 9, 2016
Baked Apples with Cinnamon Oatmeal Crumble is the perfect healthy dessert recipe, with the yummy sweetness of seasonal fruit and a dash of spice and texture from the cinnamon crumble.
Virgin Diet compliant: Cycles 1, 2, and 3
Sugar Impact Diet compliant: Cycles 1 and 3
Prep: 15 mins
Cook: 30 mins
Ingredients
4 organic apples (Pink Lady, Fuji, and Granny Smith are all great options)*
1/2 cup finely chopped walnuts or pecans
1 tsp stevia, monk fruit extract, or other low-sugar sweetener (to taste)
Directions
1Preheat oven to 350F.
2Peel and core each apple, making a large well in the center, and arrange prepared apples in a glass baking dish. (You may need to remove a thin slice of apple from the bottom of each one to help it stand upright in the dish.)
3In a medium mixing bowl, stir together the oats, chopped nuts, sweetener, spices, and salt; cut in the coconut oil until evenly combined.
4Spoon 1/4 of the oat crumble mixture into each apple, topping the apples with any extra.
5Bake in the preheated oven until apples are tender and filling is toasted and bubbling, about 30 minutes.
6Allow to cool slightly, then serve.
Remember to avoid recipes with fruit while you're in Cycle 2 of the Sugar Impact Diet.

Hungry for more tasty, nutritious recipes? Check out jjvirgin.com/recipes.
Thanks so much for reading! Have questions? Follow me on Facebook or Instagram and let me know how my team and I can best support you!
Article Sources:
1. https://www.ncbi.nlm.nih.gov/pmc/articles/PMC4808856/
2. https://www.ncbi.nlm.nih.gov/pmc/articles/PMC4488768/
3. https://www.ncbi.nlm.nih.gov/pubmed/20089145
4.https://www.ncbi.nlm.nih.gov/pmc/articles/PMC4808856/
5. https://www.ncbi.nlm.nih.gov/pmc/articles/PMC4488768/
6. https://www.ncbi.nlm.nih.gov/pmc/articles/PMC3437301/
7. https://www.sciencedaily.com/releases/2004/11/041116215006.htm
8. https://www.ncbi.nlm.nih.gov/pubmed/18852529
9. https://www.ncbi.nlm.nih.gov/pubmed/14681850