Brownies that are good for you? Yes, they exist… and here they are!
I love dessert, especially anything with dark chocolate. But there's no guilt or health compromises with this one!
These rich and fudgy brownies are free of gluten, egg, dairy and sugar, four of the top offenders for weight gain and chronic inflammation. Instead of the bad guys, they include superfoods like avocado, flaxseed, and coconut oil.
The best part is, they actually taste like brownies, not just some health-food knock-off! And just in case you need more reasons to eat dark chocolate, it's proven to lower the risk of coronary disease, and even increases cognitive function and blood flow to your brain.
The avocado in this recipe adds creaminess and nutrition that goes unmatched. And it means every bite is loaded with healthy omega-3's that can help fight inflammation and burn fat, plus heart-healthy fiber, vitamins, and antioxidants. 
That's one big reason why Team JJ loves avocados any which way. This superfood is a staple at my house, as it brings creamy texture and good fats to every dish, sweet or savory, or even just on their own with a dash of sea salt. 
The result is healthy, delicious, and decadent, without the blood sugar spikes and dips caused by sugary desserts. So go for that chocolate fix and have a brownie, guilt-free!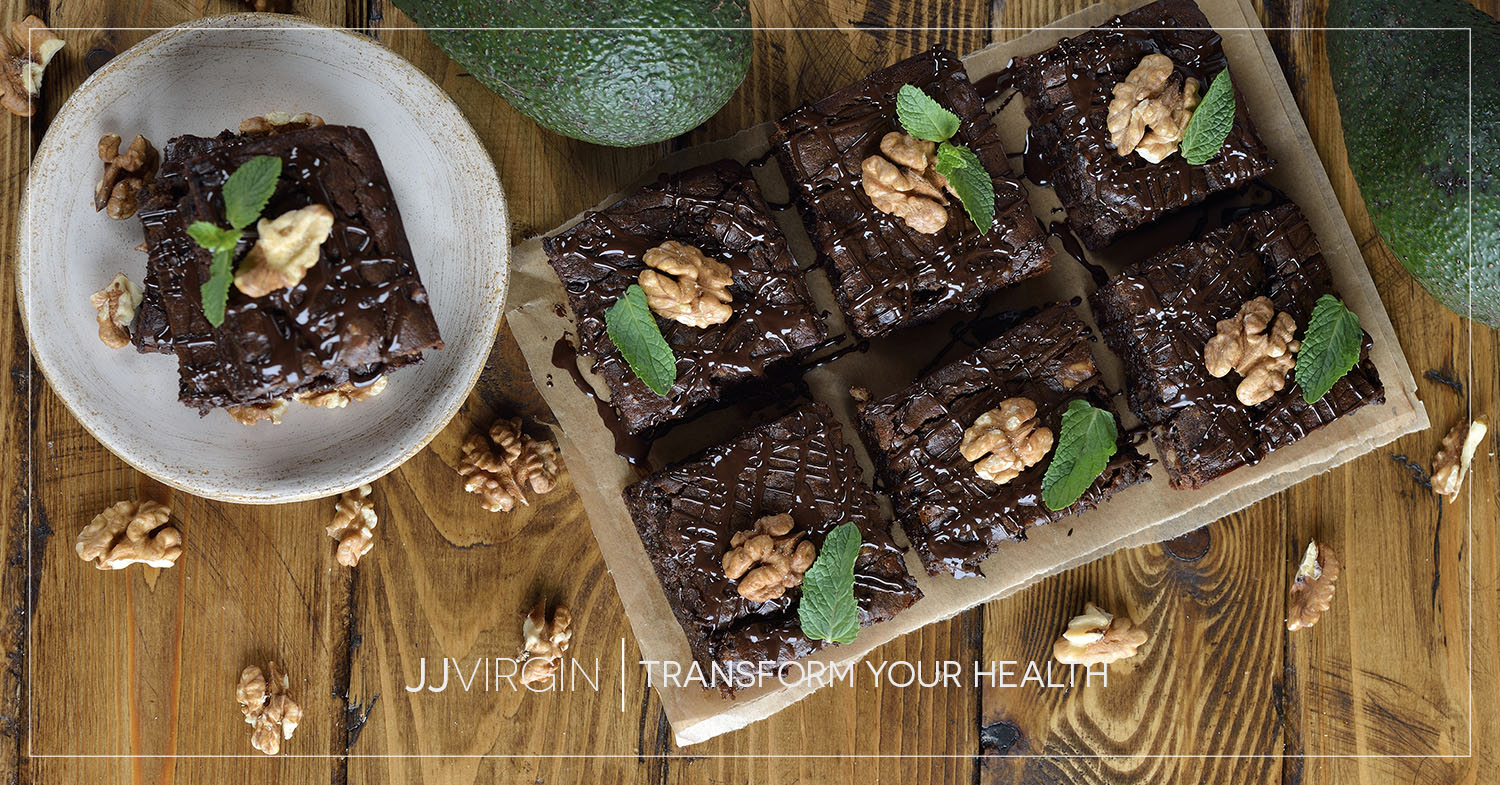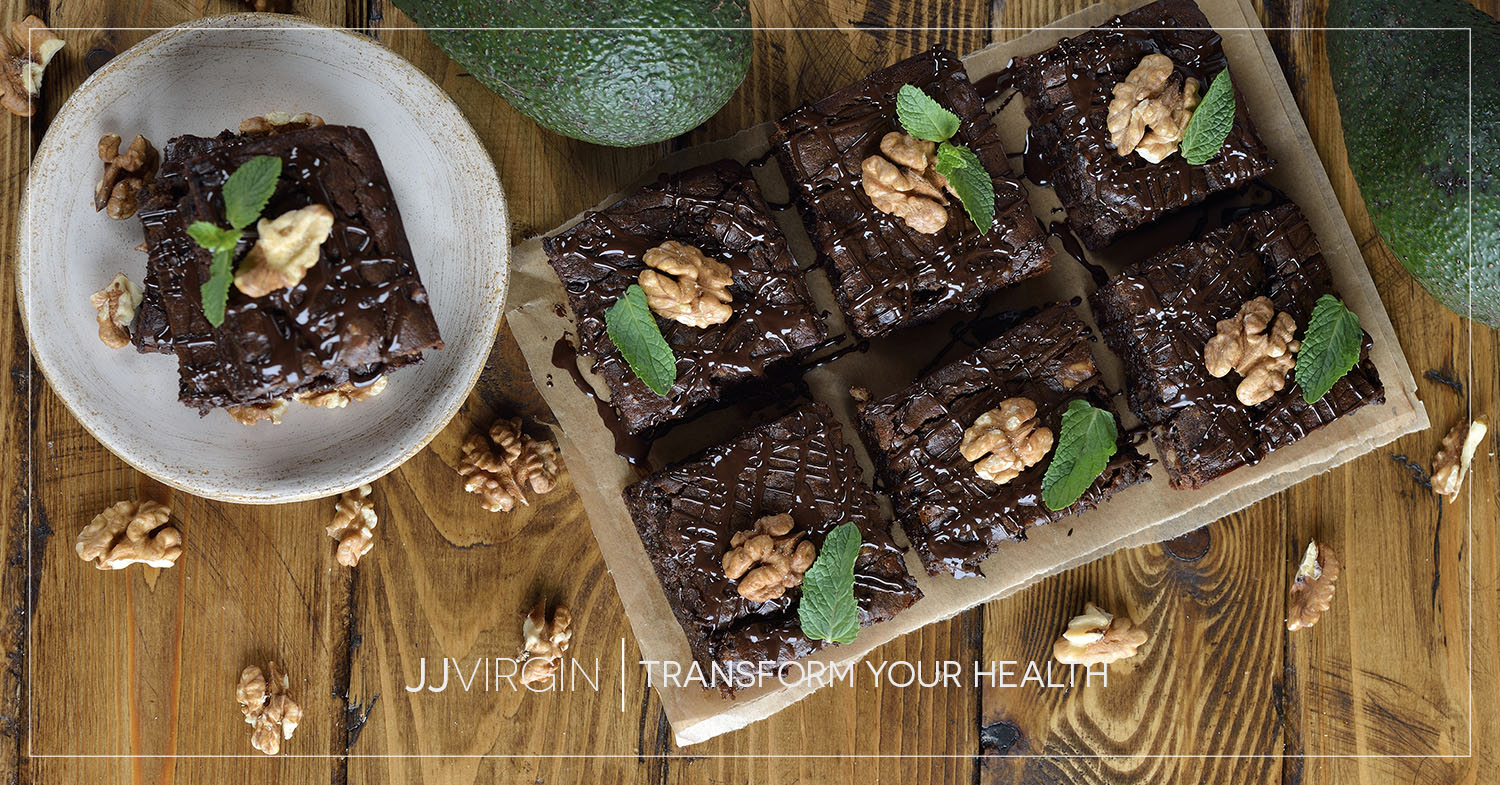 Avocado Fudge Brownies
October 10, 2019
Virgin Diet compliant: Cycles 1, 2, and 3
Sugar Impact Diet compliant: Cycles 1 and 3
You're not dreaming! These fudgy and decadent brownies are actually good for you, so you can indulge guilt-free. They're packed with healthy fats, fiber, and antioxidants.
Prep: 10 mins
Cook: 40 mins
Yields: 8 2-inch brownies
Ingredients
1 1/2 cup stevia-sweetened dark chocolate chips (like Lily's), divided
2 Tbsp organic coconut oil, plus more for the pan
1/2 cup organic unsweetened almond milk
1 medium avocado, peeled, pitted and thoroughly mashed
Dash powdered monk fruit to taste (optional)
Directions
1Preheat oven to 350°F.
2Generously oil an 8"x4" glass loaf pan with coconut oil.
3In a small saucepan, melt 1 cup of dark chocolate chips and 2 tablespoons coconut oil over low heat, gently stirring; set aside
4In a small mixing bowl, whisk together the oat flour, baking powder, and sea salt.
5In a separate large mixing bowl, stir together the ground flaxseed and water with a wooden spoon until well-combined.
6Add the mashed avocado, almond milk, melted chocolate mixture, and vanilla extract, and mix again thoroughly. (If using optional monk fruit, add it now.)
7Add dry ingredients from the small mixing bowl to the larger bowl of wet ingredients and combine well, then stir in the remaining half cup of dark chocolate chips; add walnuts now if using.
8Transfer the brownie batter to the greased loaf pan and smooth into an even layer.
9Bake at 350F for 40 minutes, or until a wooden skewer inserted in the center comes out mostly clean.
10Cool in the pan completely before cutting into 8 2-inch brownies. (You can put the pan in the refrigerator to speed that cooling process up.)
11Store leftover brownies in airtight container in refrigerator for up to 5 days. Brownies also freeze beautifully for up to 6 weeks!
Thanks so much for reading! You can get plenty more delicious, healthy recipes when you follow us on Pinterest…