Don't you wish there was a magic pill for weight loss and excellent health?
Goodness knows advertisers want us to think there is! There's always some "exciting new discovery" to boost your metabolism and magically shrink your waistline.
Most of them ultimately produce zero results, and some even cause harm. (Remember fen-phen and ephedra?) But the hunt goes on – "weight loss pill" remains one of the most-searched terms in Google.
The truth is, there's no pill in the world that will replace eating right, exercising, getting quality sleep, and addressing your stress. But if you have good habits dialed in, there are some natural supplements that are scientifically proven to speed up your metabolism and rev up your weight loss efforts.
Here are my top 5 supplements to boost metabolism, burn fat, and get you to your goal weight faster! (No magic pills here, just hard science…)
1. Green Tea Extract
Studies have shown that green tea drinkers who had 4 glasses of tea over 2 months experienced noticeably decreased body weight and waist size compared to those who didn't drink green tea.1 It's the catechins – an antioxidant that's found abundantly in green tea – that help fight obesity.2
I like to drink at least 32 ounces of iced unsweetened green tea every day. But if green tea isn't your thing, you can still get the benefits of green tea extract in supplement form. (Look for a decaf formulation like the one in Metabolic Charge.)
2. BCAA
BCAA stands for "branched-chain amino acids," and they can do amazing things for your metabolism! One key benefit of BCAAs are their ability to maintain or increase muscle mass, especially post-workout.3  Muscle is metabolically expensive, so keeping muscle mass helps to maximize your ability to get and stay lean.
BCAAs also control hunger and increase your body's ability to burn fat, especially around the waist.4 A definite win-win! You can supplement with BCAAs in capsule form or get them in your protein shake like I do – BCAAs are a key ingredient in my All-In-One Paleo Shakes, available in yummy vanilla or chocolate.
3. L-Glutamine
L-glutamine is an incredible multitasker! It's the most abundant amino acid in your bloodstream, and it protects against muscle wasting, while also boosting your cell growth and repair.5 That makes L-glutamine an excellent choice for faster post-workout recovery. L-glutamine can also raise growth hormones, which increases your resting metabolic rate and boosts fat burning.6
You know I'm a protein shake fan, so I add L-Glutamine Powder to my smoothies. Find out more about the amazing health benefits of L-glutamine and grab my crave-crushing lemonade recipe HERE.
4. Omega-3s
If you've been in this community for long, you probably know that fish oil is one of my favorite multi-tasking supplements for its role in helping my son heal from a traumatic brain injury. Fish oil is loaded with omega-3s, nature's best anti-inflammatory.
However, besides it's amazing benefits for brain health and fighting inflammation, studies have shown that adding omega-3's (specifically DHA and EPA) to your diet for over 6 weeks can lower your body fat, especially when compared to diets that are rich in other fatty acids.7 Check out this blog for easy ways to add omega-3s to your diet: Top 15 Foods for Omega-3s.
5. Berberine
Meet your new weight loss bestie! Among its impressive list of health benefits, berberine has been proven to increase weight loss and lower BMI (the measurement of body fat based on height and weight), while also lowering triglyceride levels and cholesterol.8
This is because berberine helps prevent fat storage, balances insulin sensitivity, and increases the hormone, leptin, which helps you crush cravings and burn fat.9 I take Berberine Synergy from Designs for Health – you can save 20% on it here.
Remember, no supplement will take the place of a nourishing, balanced diet, regular exercise, and healthy sleep and stress management habits. But if you're looking for an all-natural advantage, the 5 supplements above are a great start!
Thanks so much for reading this post! If you're interested in finding out more about how to dial in your diet and health, please check out my programs. They're science-based and have already helped thousands of people feel better fast and lose the weight.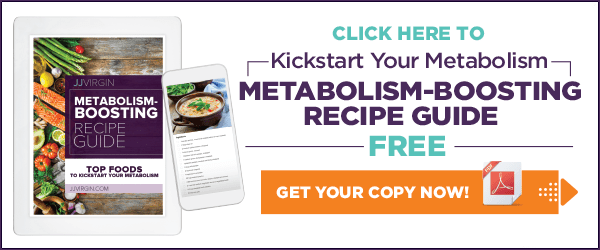 Article Sources: