Just when you thought smoothies couldn't get any faster or more convenient, meet the smoothie ball!
These handy little nuggets of frozen goodness have the healthy fats and fiber you need for a nutritious protein shake, all pre-measured and mixed. That shaves steps off your prep time and minutes off your morning routine. (Not to mention that they're just plain fun to make and use!)
While this version uses almond butter, you could easily substitute the same amount of any other seed or nut butter, coconut oil, or mashed avocado. Just don't use peanut butter, since it's a common source of food intolerance.
The customization opportunities don't end there! Try using the same amount of ground flaxseed or JJ Virgin Extra Fiber in place of the chia seeds. Throw in a few tablespoons of chopped freeze-dried berries for extra tang.
No matter what combo you land on, the results will make your protein shakes an even more satisfying exercise in instant gratification. And if you're looking for a way to get kids or teens excited about helping out in the kitchen or taking charge of their health, this is the ideal starter recipe – no cooking involved.
To use your smoothie bombs, just add one to the blender along with quality protein powder, a cup of frozen organic berries, and 10 ounces of unsweetened coconut or nut milk. (You want the kind in the carton, not the can – it's sometimes called "coconut milk beverage.")
A smoothie ball also works in place of the healthy fats and fiber in any of the shake recipes in the free Smoothie Guide down below. Don't forget to download it before you go!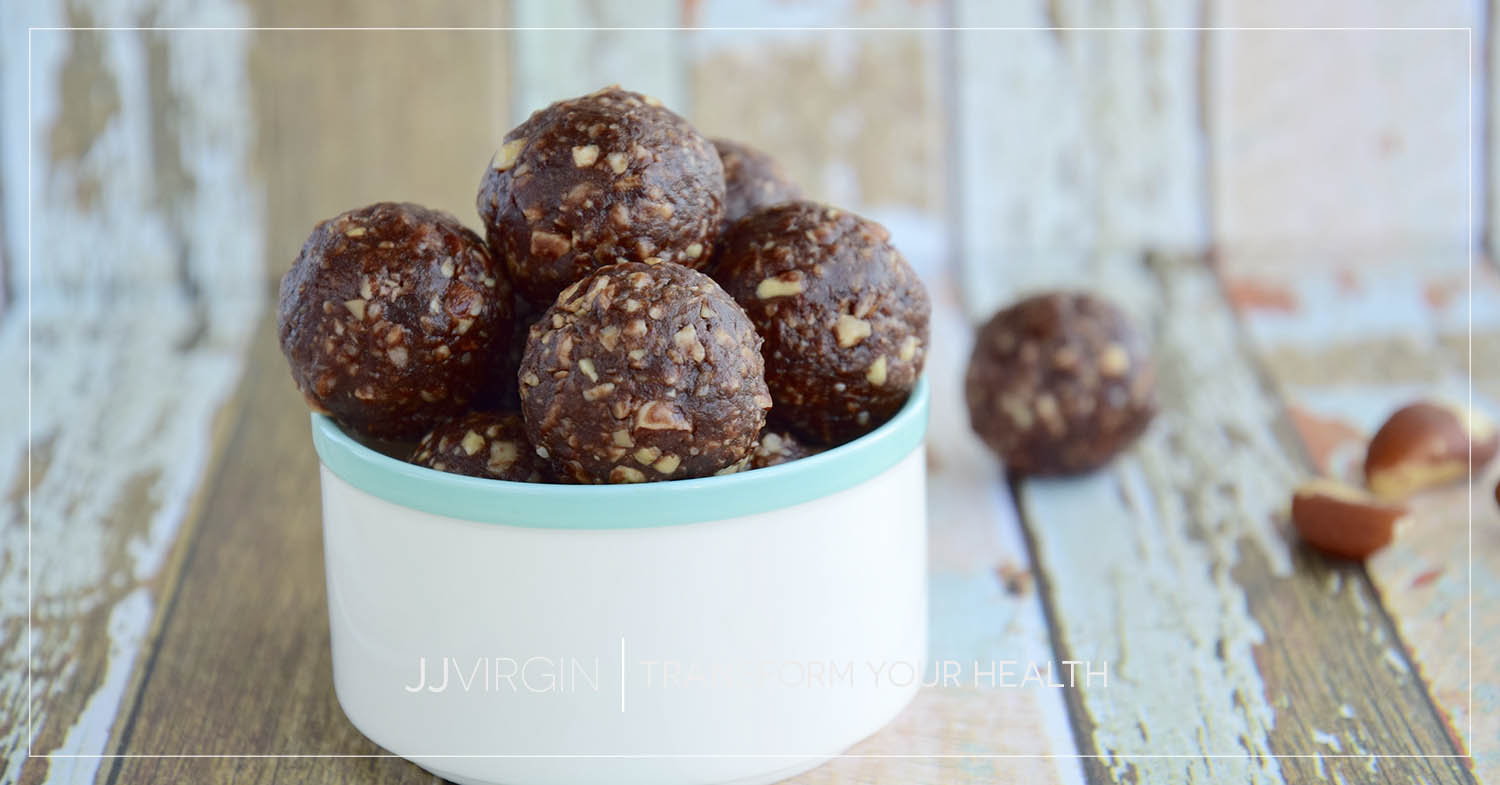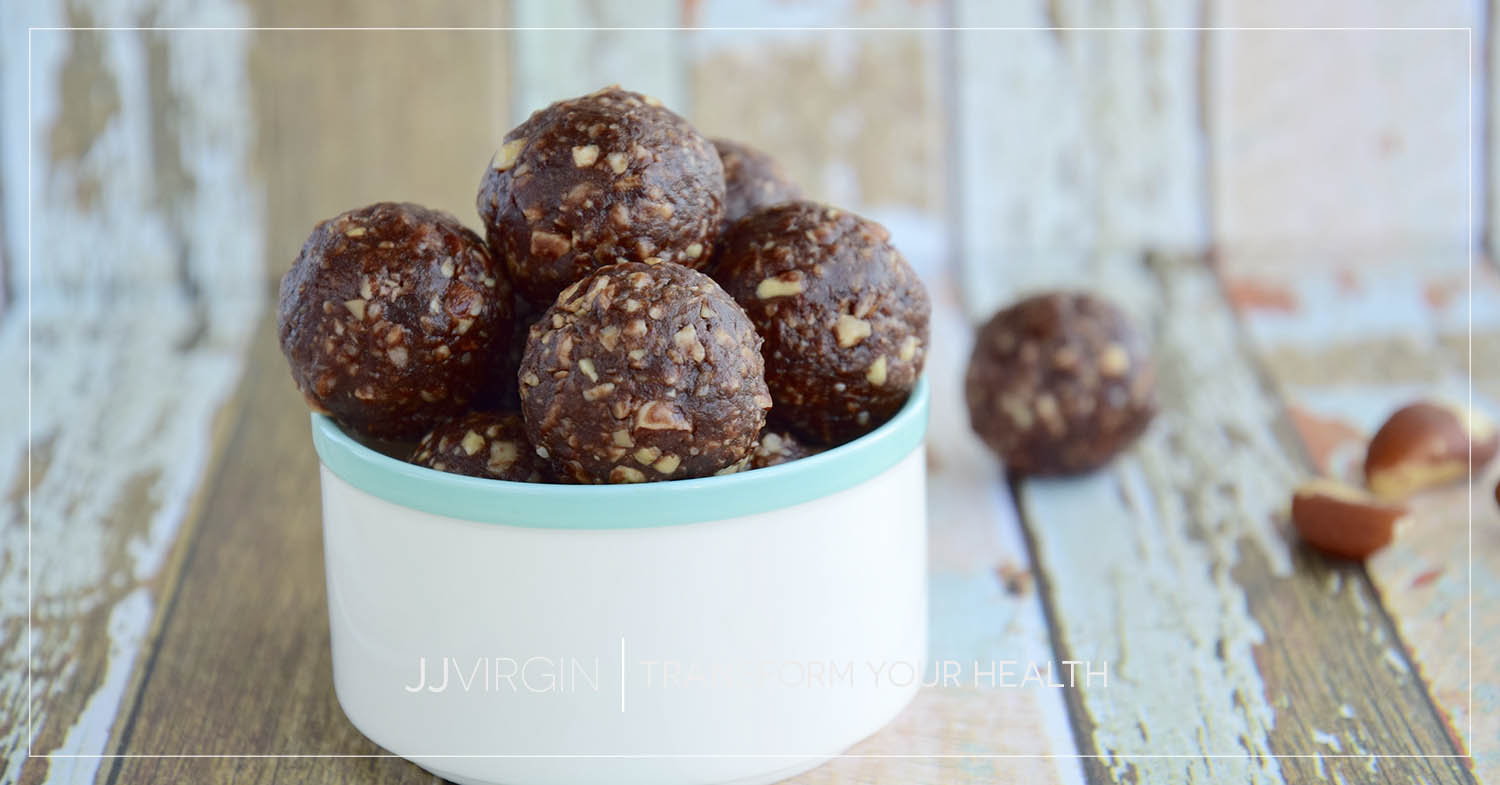 Almond-Cacao Smoothie Balls (The Perfect Breakfast Shortcut)
March 11, 2019
Virgin Diet compliant: Cycles 1, 2, and 3
Sugar Impact Diet compliant: Cycles 1, 2, and 3
These delicious chocolate almond smoothie bombs are a breeze to stir together and make it even easier to blend together a healthy, tasty morning shake.
Prep: 5 mins
Yields: Makes 6 balls (enough for 6 smoothies)
Directions
1In a medium mixing bowl, stir together the ingredients until thoroughly mixed.
2If mixture is still dry and powdery, add an additional 1-2 teaspoons coconut milk.
3Shape mixture into 6 balls, each about 2 tablespoons.
4Place on parchment-lined plate and freeze until firm, at least 1 hour.
5Transfer to airtight bag or container and freeze up to 6 weeks.
6To use, put 1 smoothie ball, 1 cup frozen organic berries, and 2 scoops JJ Virgin All-In-One Protein Shake powder* (your choice of protein type and flavor) in a blender with 10 ounces of unsweetened coconut or nut milk and blend until smooth.
7Your smoothie can be thinned with cold filtered water or thickened with ice cubes. So quick and easy!
Nutrition Facts
Calories234
Sodium3 mg
Protein7 g
Cholesterol0 mg
Sugar1 g
Total Fat19 g
Total Carbohydrates13 g
Dietary Fiber7 g
Thanks so much for reading! You can get plenty more delicious, healthy recipes when you follow me on Pinterest…
Add not found