The term "superfood" has been all over the media lately, and it includes healthy favorites like quinoa, blueberries, cacao, and chia seeds. But what exactly is a "superfood"?
There's not actually any standard definition or nutritional requirements for superfoods. The general rule is that a superfood must be high in a variety of nutrients, including essential vitamins and minerals, as well as fiber and protein.
Most superfoods also have high quantities of omega-3s or antioxidants. Omega-3s are the healthy fats your body needs to maintain everything from your brain health to your cardiovascular function, while antioxidants protect your cells, helping head off early aging and disease.,1-4
I personally take that definition one step further: for something to truly qualify as a superfood in my book, it also needs to be free of inflammatory ingredients and be low-sugar impact. (Sorry, soybeans, no superfood status for you…)
It's easy to see why superfoods are so popular: they're ultra-healthy multitaskers that give you the biggest bang for your nutritional buck. It helps that they taste great, too!
Check out my Top 7 Superfoods (& Why They're So Super). And while you read, enjoy the Superfoods Protein Shake recipe below. It's packed with tons of tasty superfood ingredients to help you look and feel super yourself!
Superfoods Protein Shake
Breakfast & Shakes, Shakes & Smoothies
February 23, 2017
This protein shake is full of yummy, nutritious superfood ingredients that can help you burn fat, fight disease, and slow aging. Now that's what I call super!
Virgin Diet compliant: Cycles 1, 2, and 3
Sugar Impact Diet compliant: Cycles 1 and 3
Prep: 5 mins
Yields: 1 Serving
Directions
1Blend the ingredients together until smooth. (If you're using Paleo shake mix, ramp up the blender speed slowly to keep it creamy.)
2Your shake can be thickened by adding ice cubes or thinned by adding cold water. Enjoy!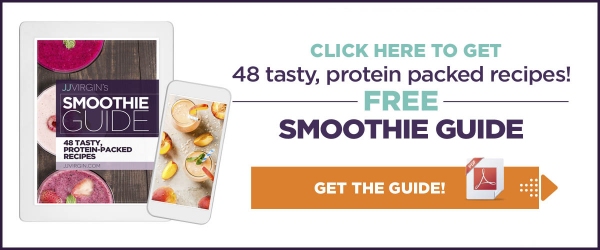 Article Sources:
1 https://www.ncbi.nlm.nih.gov/pmc/articles/PMC4153275/
2 http://www.ncbi.nlm.nih.gov/pubmed/18072818
3 https://www.ncbi.nlm.nih.gov/pmc/articles/PMC2685276/
4 https://www.cancer.gov/about-cancer/causes-prevention/risk/diet/antioxidants-fact-sheet