This original recipe was submitted by Virgin Diet fan Jamey Karnitz. Not only does it taste amazing, it's a testimony to how healthy eating habits can turn your life around.
With the help of The Virgin Diet, Jamey lost 41 pounds, and ended her chronic headaches and hypoglycemic episodes.* She also realized that switching to better food actually saved her money in medical expenses! With her food intolerances discovered and eliminated, Jamey found new energy and passion for her future.
Thank you, Jamey, for sharing both your experiences and your recipe.
White Bean Cajun Chicken with Black Beans and "Rice" is the first recipe in our Cajun Cooking menu, to be joined by Spicy Okra with Garlic and Tomatoes; Blackened Salmon; and Confetti Quinoa.
White Bean Cajun Chicken with Black Beans and "Rice"
April 11, 2017
This delicious cajun dish features Paleo cauliflower rice and spicy, flavorful chicken for an irresistible gluten-free dinner that would be at home on Bourbon Street.
Virgin Diet compliant: Cycles 1, 2, and 3
Sugar Impact Diet compliant: Cycles 1, 2, and 3
Prep: 25 mins
Cook: 1 hr 20 mins
Yields: 4 Servings
Ingredients
Rice
1 black beans, drained, and rinsed
Chicken
1 (15-ounce) can Great Northern beans, rinsed and drained
juice of 1 lemon (about 3 tablespoons)
2 tbsp Frank's Hot Sauce, plus more for serving (optional)
1 lb skinless, boneless free-range chicken breasts or tenders, trimmed
Directions
Rice
1Preheat the oven to 400°F. Line a 13x9-inch baking pan with parchment paper.
2Cut the cauliflower into large pieces.
3Place them in a blender or food processor, and process until fine. Place the cauliflower in a hand towel and squeeze to expel as much excess water as possible (really work hard on this).
4Combine the cauliflower with 1 tablespoon of the olive oil, all the rosemary, and the garlic in the baking pan. Bake 20 minutes, flipping the cauliflower over halfway through cooking.
5Put the remaining 1 tablespoon olive oil in a frying pan, and transfer the cooked cauliflower to it. On medium-high heat, brown the "rice" to the desired color. Season with sea salt and pepper, then mix in the black beans and heat through. Set aside (may be made ahead of time and reheated to save on time).
Chicken
1Preheat the oven to 375°F. Line a baking pan with tin foil lightly with olive oil to reduce sticking.
2Place the beans in a blender or food processor and blend until smooth. Scrape out and combine with the flaxseeds. 6 tablespoons water, lemon juice, and Cajun seasoning. Adjust the seasonings to taste, set aside.
3Pour the Frank's Hot Sauce into a medium bowl, and dilute with water to taste. (I don't handle spicy too well, so I used a 1:2 ratio of hot sauce to water.)
4Dip the chicken into the liquid briefly and then dip it into the bean mixture. Work with your hands to scoop the bean mixture around the chicken (it will mostly be on top), and place the chicken in the prepared pan.
5Bake for 30 minutes, or until the chicken is done. Serve the chicken over the "rice", with more hot sauce if you're looking for excitement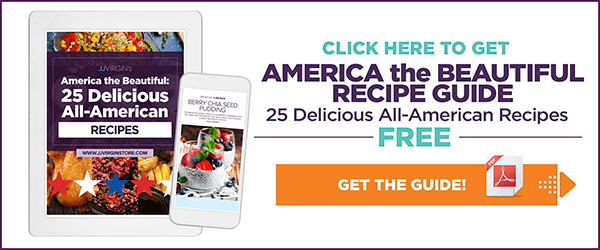 Thanks so much for reading! Don't forget to like this post and like us on Facebook.