Superfoods are the fruits, vegetables, meats, and seeds that give you the best chances of living a longer, healthier life. They can slow aging, protect your cells, and prevent inflammation.1-4
Choosing superfoods makes a lot of sense if you want to look and feel your best. However, since there's no clear medical definition for what a "superfood" is, you might need a little help!
Check out the eight superfoods below to find out what makes them so great for you, plus get yummy recipes to add to your menu…
1. Legumes
Superfood Facts: Lentils, peas, and beans are the standouts in the legume family, and they're all eligible for superfood status thanks to complete protein (meaning they have all 9 essential amino acids), vitamins and minerals, and fiber. I love them in tasty, homemade Garlic Hummus or vegan-friendly Lentil Nut Burgers with Cilantro Vinaigrette.
2. Flaxseed
Superfood Facts: Flaxseed is an amazing superfood that is absolutely crammed full of omega-3s,  healthy fats that fight inflammation. These toasty brown seeds are also packed with fiber and protein, making them a great addition to my Mom's Apple Chai Protein Shake, oatmeal, and more.
3. Green Tea
Superfood Facts: Green tea contains a host of helpful compounds that can do everything from improve brain function to help with weight loss and emotional eating. Green tea also improves insulin sensitivity, decreasing your risk for type 2 diabetes and related diseases. (I love it in this Metabolism-Boosting Arnold Palmer…)
4. Avocado
Superfood Facts: I heart avocados! They're a true superfood, with healthy fats, plenty of fiber, protein, and vitamins. Try them in a chocolate smoothie, make a side of incredible Roasted Jalapeño Guacamole, or add them to an easy BLT Avocado Wrap. (And here's a quick tip to ripen them in just 10 minutes.)
5. Spinach
Superfood Facts: Popeye had it right: spinach is the poster child for superfoods. It's got tons of fiber, vitamins, minerals, and some protein. The easy way to get your greens is to add a handful to your favorite green smoothie, but you can also add spinach to tasty Turkey, Spinach, & Strawberry Wraps.
6. Almonds
Superfood Facts: Almonds are another one of my faves, and it's no wonder: not only are they packed with protein, healthy omega-3s, and vitamins, they taste so yummy! You can enjoy this superfood on its own in creamy almond butter, or try it in a batch of tasty Vanilla Almond Paleo Protein Pancakes.
7. Ginger
Superfood Facts: Ginger is a versatile superfood that has a variety of health benefits, from fighting inflammation to healing your gut. Ginger contains beneficial amounts of fiber, vitamin C, and multiple minerals; as a plus, it's also a natural way to fight nausea. Try it in this delicious Ahi Tuna over Asian Slaw.
8. Cacao
Superfood Facts: One word: flavanols. Those are the compounds in cacao that can help slow aging, prevent major disease like cancer and diabetes, and protect your heart and brain. No wonder we crave chocolate! (Just be sure to eat raw cacao powder or dark chocolate with 75%+ cacao for the best results.)
Still hungry for more? Check out this article for more superfood facts and an amazing Superfoods Protein Shake recipe!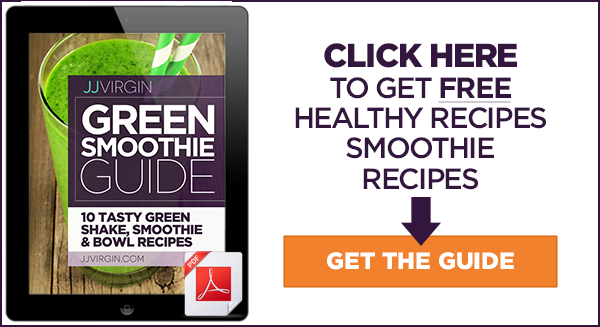 Article Sources:
1 https://www.ncbi.nlm.nih.gov/pmc/articles/PMC4153275/
2 http://www.ncbi.nlm.nih.gov/pubmed/18072818
3 https://www.ncbi.nlm.nih.gov/pmc/articles/PMC2685276/
4 https://www.cancer.gov/about-cancer/causes-prevention/risk/diet/antioxidants-fact-sheet