Here's a great way to use your Thanksgiving leftovers! Turn your Nutty Orange-Cranberry Sauce into a tasty, energizing smoothie.
This shake is a perfect way to prep for Black Friday – protein and fiber for sustained shopping energy, plus healthy omega-3s to be sure you stay sharp and burn fat while you hunt down those bargains!
Protein shakes (a.k.a. smoothies) are the perfect meal to help you burn fat and feel your best. Then rev up your blender and get ready for a delicious morning!
Cranberry-Orange Sunrise Smoothie
Breakfast & Shakes, Shakes & Smoothies
November 25, 2016
This refreshing smoothie recipe has tangy cranberry and orange flavors, plus healthy protein and fats to help you start the day energized. (It's also the perfect way to use up that leftover cranberry sauce from Thanksgiving...)
Virgin Diet compliant: Cycles 1, 2, and 3
Sugar Impact Diet compliant: Cycles 1 and 3
Prep: 10 mins
Yields: 1 serving
Ingredients
2 scoops Vanilla or Chai JJ Virgin All-In-One Protein Shake powder*
1/3 cup Nutty Orange Cranberry Sauce (recipe below)
10 oz. unsweetened coconut milk
2 tbsp unsweetened almond butter
1 tbsp freshly ground flaxseed
1/2 tsp grated fresh orange zest
Directions
1Blend the ingredients together until smooth. (If you're using Paleo shake mix, ramp up the blender speed slowly to keep it creamy.)
2Your shake can be thickened by adding ice cubes or thinned by adding cold water. Enjoy!
*Want to know more about JJ Virgin All-In-One Protein Shake powder? Check out our store to see product details, protein shake FAQs, and choose from Plant-Based or Paleo-Inspired protein powder in rich chocolate, versatile vanilla, or exotic chai.

For more yummy, healthy recipes, go to jjvirgin.com/recipes.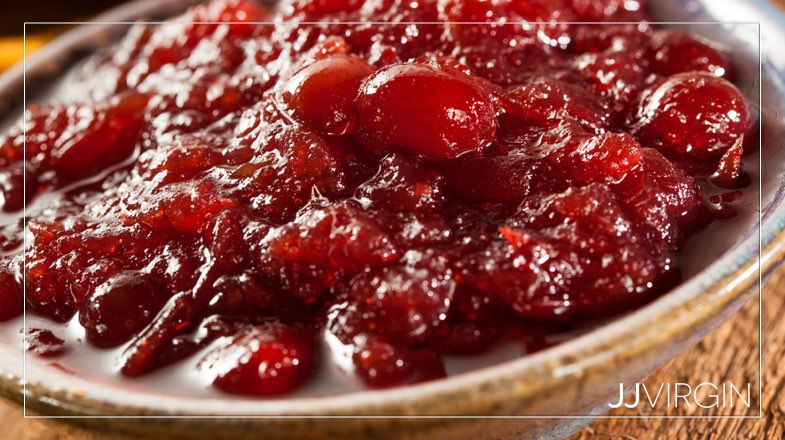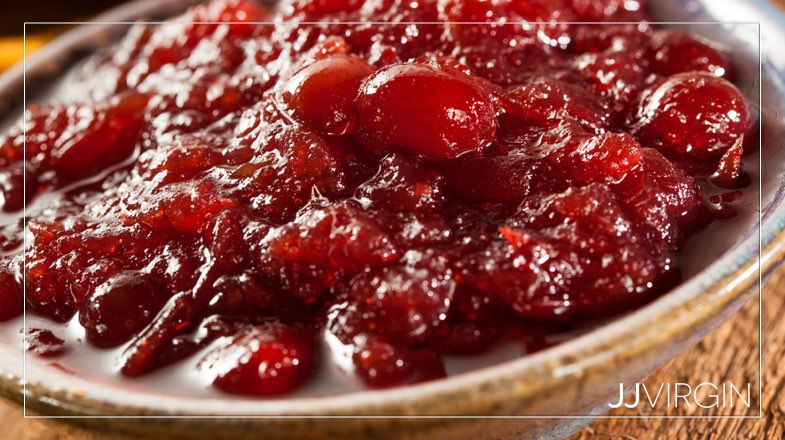 Nutty Orange-Cranberry Sauce
November 25, 2016
The naturally sweet-tart flavors in this recipe make it the perfect accompaniment to savory turkey and veggies sides. (Just right for leftover turkey sandwiches too!)
Virgin Diet compliant: Cycles 1, 2, and 3
Sugar Impact Diet compliant: Cycles 1 and 3
Prep: 5 mins
Cook: 15 mins
Yields: 1-1/2 cups
Directions
1Combine the berries, water, and monk fruit extract in a medium saucepan over medium-high heat, and bring to a boil.
2Immediately reduce the heat to medium and cook, stirring occasionally, until all the cranberries have popped and the mixture has thickened slightly, about 8 minutes.
3Remove from the heat and stir in the walnuts and orange zest.
4Let cool completely, then chill for at least 3 hours before serving.
This recipe is part of the Virgin Thanksgiving menu, with Turkey Cutlets with Marsala and Shiitake Mushrooms, Nutty Orange-Cranberry Sauce, Roasted Acorn Squash Purée, Braised Kale, Wild Rice and Vegetable Pilaf, Green Beans with Shiitakes and Shallots, and Pumpkin Bread Pudding. Check out the Virgin Thanksgiving Menu and Guide for links to all the recipes, plus more handy tips and activities for a wonderful Thanksgiving feast!

Originally published in The Virgin Diet Cookbook, Grand Central Life & Style, 2014

For more nutritious, delicious recipes, try jjvirgin.com/recipes.
Nutrition Facts
Total Carbohydrates
12 grams
Thanks so much for reading! Don't forget to like this post and like us on Facebook.
Please SHARE with this tweetable (just click!):
Waking up bright and early Black Friday? Make a Cranberry-Orange Sunrise Smoothie to stay energized all morning long!