Fiber: no one really wants to talk about it, but everyone needs to!
So how much do you need? After working with thousands of clients throughout the years, I've found that 35-50 grams of fiber a day is an optimal amount for preventing illness and protecting your health.
Read on to find out how to get that much safely and which high-fiber foods are best…
What you should know about fiber
Although fiber has a well-known reputation for keeping your digestive system moving smoothly, its benefits certainly don't stop there! Getting adequate dietary fiber is also important for:
Helping you feel full

1

Sparking weight loss

2

Balancing your blood sugar levels

3
Maintaining healthy cholesterol levels4

Feeding the good bacteria in your gut and boosting your immune system

5

 

Helping reduce your risk of heart disease and type 2 diabetes

6-8
The key is to be sure you're eating plenty of it to reap all those rewards!
Now here's the scary news…
While I've found that 50 grams of fiber a day is ideal, the USDA recommends about half that as a minimum.
You know what's really frightening? Most Americans are only getting a mere fraction of that amount!
Scientific reports show that the average fiber intake for women is only 12-13 grams per day, and men aren't faring much better with a measly 16-17 grams.10 That tells me we've got a lot of work to do…  
How to Increase Your Fiber Intake Safely
Before you start loading up on beans and Brussels sprouts, you need to remember to increase your fiber intake gradually to avoid intestinal distress. (We've all been there before and it's not pleasant!)
The best way to do that is by raising the amount of fiber you eat each day in 5 gram increments. Wait until you aren't having any digestive symptoms before you increase again. Keep stepping up the amount of fiber you're eating gradually until you reach the goal of 35-50 grams a day.
To help make it even easier to add fiber-rich foods to your menu, here's a handy list of my top 10 high-fiber, gluten-free picks… (Follow the links to yummy, healthy recipes for all of them!)
If you're still struggling to meet your daily quota, stirring a spoonful of Extra Fiber into your protein shake or morning coffee is a great way to boost your fiber intake and help you feel full for hours.  
While the benefits of fiber may not be a particularly sexy conversation starter, it's important to know that getting enough fiber is crucial for helping you look and feel your very best!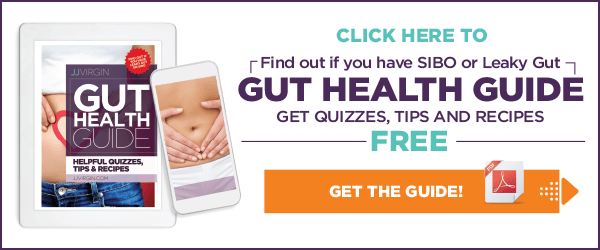 Article Sources
1 https://www.ncbi.nlm.nih.gov/pubmed/11396693
2 https://www.ncbi.nlm.nih.gov/pubmed/23885994
3 https://www.ncbi.nlm.nih.gov/pubmed/625991
4 http://olivamine.com/sites/default/files/pdf/Prebiotic-Fiber/Fiber-Cholesterol-Lowering.pdf
5 https://www.ncbi.nlm.nih.gov/pmc/articles/PMC3705355/
6 http://circ.ahajournals.org/content/94/11/2720.short
7 http://www.fiberwater.com/_pdf/4Fiberdecreasedriskofcoronaryheartdiseaseinwomen.pdf
8 http://care.diabetesjournals.org/content/23/10/1461.short
9 http://jn.nutrition.org/content/142/7/1390S.long
10 https://www.cnpp.usda.gov/sites/default/files/nutrition_insights_uploads/Insight36.pdf